Chartering a yacht is an amazing experience, but managing a fleet of yachts can be a challenging task for charter companies. From administering bookings to managing routine maintenance, ad-hoc issues and timely but thorough handovers, there are a multitude of responsibilities that need to be handled efficiently and effectively.
In today's digital age, managing a yacht fleet can be simplified with the use of charter management software tools. These tools help charter companies streamline their operations, enhance customer ánd staff satisfaction, and ultimately increase revenue.
In this blog post, I will explore the reasons why fleet operators need a charter management software tool and the benefits they can provide.
Facilitate internal communication between teams
Effective communication between team members is essential for the smooth operation of any company, let alone charter companies where the base staff is mostly located on the dock with the boats, and the office staff in the office. You want to prevent your team from running back and forth in order for them to stay aligned.
Charter management software tools provide a centralized platform for team members to communicate with each other and share important information, such as which boats have been cleaned and which ones still need repairs. This not only saves time and works more pleasantly, but also ensures that everyone is on the same page, reducing the risk of miscommunication and errors.
Empower customers to do the check-in at their own pace
Charter management software tools enable charter companies to provide their customers with a seamless check-in experience. Customers can complete the check-in process at their own pace, reducing the need for long queues and wait times.
Providing mobile check-in not only enhances customer satisfaction but also saves time for your technical staff, enabling them to focus on other important tasks, and assisting the clients that do need that extra bit of personal attention.
Offer customers a support app throughout their week
Providing clients with a support app throughout their yacht charter week is a game changer: it will greatly enhance their experience. Charter management tools like Floatist enable charter companies to provide their clients with a one-stop-shop client app that includes information on equipment instructions, booking and base information, support phone numbers, and other helpful tips for their vacation.
Providing such a app that serves as the first point of support can help clients feel more confident and at ease during their vacation, knowing that they have easy access to the information they need.
Additionally, having a support app can reduce the number of phone calls that your base staff receive from clients during the week, enabling them to focus on more pressing tasks at the base.
By offering a support app, differentiate yourself from your competitors, provide your clients with a valuable service, and increase customer satisfaction.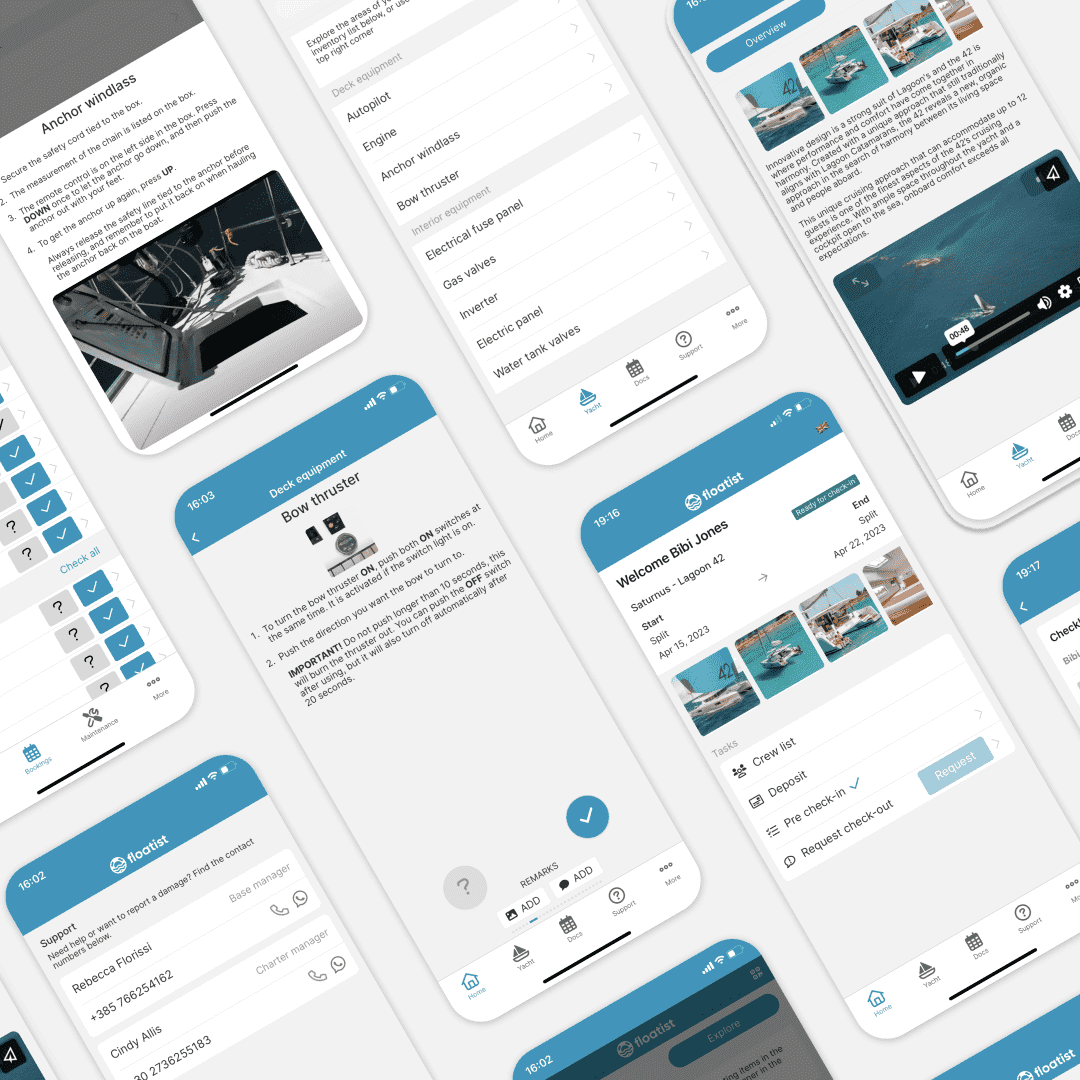 Keep track of and schedule maintenance tasks in an organized and structured way
Yacht maintenance is an important aspect of managing a yacht fleet, as it directly impacts your customer's experience while on the water. Often, performed maintenance tasks are logged on pen and paper, or in an excel sheet, at best.
Charter management software tools provide a centralized platform for keeping track of performed and upcoming maintenance tasks, enabling charter companies to keep track of routine maintenance tasks, parts inventory, and work orders.
By using a maintenance tool and creating a periodic rule set for routine tasks, you are set up to proactively identify potential issues and address them before they become major problems, reducing costly downtime.
Use your data to analyze customer trends and maintenance insights
Charter management software tools enable charter companies to collect and analyze valuable data related to their fleet and customers. This data can be used to identify patterns and trends, enabling you to make informed decisions about maintenance schedules, new yacht model choices and customer preferences.
Additionally, if you are looking to sell yachts at the end of the season, new owners will be more confident and willing to pay a higher price if you can show them an organized maintenance log of the past years.
By analyzing customer trends, charter companies can identify which boat types are most popular among their customers, enabling them to tailor their offerings to meet customer demands and preferences.
Collecting and using data is a powerful tool that can help optimize your operations, enhance customer experience, and ultimately increase revenue.
Floatist's all in one charter management platform can help your business
Charter management software tools are an essential component of managing a yacht fleet. Floatist's all-in-one charter management platform for fleet operators can help you with all of the above, and more!
With Floatist, charter companies can optimize their fleet maintenance, improve the way their teams work, and provide their customers with a high-quality yacht charter experience.
If you're a charter company looking to take your operations to the next level, consider using Floatist this upcoming season! Reach out to me at cindy@floatist.com for more information or directly request a demo at floatist.com/contact.